HIM & THE RASMUS OCTOBER 2015

WED 21.10. ST PETERSBURG, RUSSIA
A2
Tickets

FRI 23.10. KRASNODAR, RUSSIA
GREENFEST

SUN 25.10. MOSCOW, RUSSIA
STADIUM LIVE
Tickets


HIM WITH THE VAMPS

MON 16.11. ZEPP TOKYO, JAPAN
WED 18.11. ZEPP TOKYO, JAPAN
THU 19.11. ZEPP TOKYO, JAPAN

HIM DECEMBER 2015

FRI 04.12. CARPA ASTROS, MEXICO CITY

SAT 05.12. KNOTFEST, MEXICO CITY
Tickets

TUE 08.12. EL TEATRO VORTERIX, BUENOS AIRES, ARGENTINA

THU 10.12. CIRCO VOADOR, RIO DE JANEIRO, BRAZIL

FRI 11.12. CARIOCA CLUB, SAO PAULO, BRAZIL

SUN 13.12. LA CUPULA, SANTIAGO, CHILE

SUN 27.12. NOTTINGHAM, UK
ROCK CITY (SOLD OUT)
Tickets

THU 31.12. HELLDONE, Tavastia, Helsinki (SOLD OUT)

TUE 29.12. & WED 30.12. HELLDONE, Tavastia, Helsinki (added shows)
Tickets

Helldone tickets can be reserved through the call center +358108431618, reservation time 2 days.
Ticket link: www.tiketti.fi/event/34631
Tickets will be available on Wed 23 Sep at 12:00 CET (13:00 local time)
Ticket limit: max 2 tickets per customer and per card
The tickets are personal. They will be named at the time of purchase, and the identity of the ticket owner will be verified when entering the venue.
Age limit: strictly 18 years and over only (no exception even accompanied by parents etc.)


SAO PAULO VENUE CHANGE

The performance of HIM in Sao Paulo Dec 11th has changed to a new venue. The show will take place at Carioca Club on December 11th, at 8 PM. Unfortunately, the improvements that will put Tropical Butanta among the leading venues in Brazil, had a brief delay in the schedule, making it impossible to serve the public with the expected excellence.

The new venue is:
Carioca Club
Rua Cardeal Arcoverde, 2899 - Pinheiros
Sao Paulo

Previously purchased tickets remain valid. Opening doors is changed to 19:00h and showtime is at 20:00h.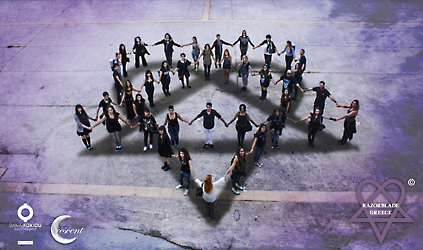 Shaping the Heartagram photo session organized by Razorblade Greece.